Regular price
$109.00 USD
Regular price
Sale price
$109.00 USD
Unit price
per
Sale
Sold out
Shipping & Returns

Customers are kindly reminded that they are responsible for shipping costs when returning items, which unfortunately cannot be refunded. Delivery times may vary but priority shipping is available at an additional cost for those who wish to receive their items quicker. View full shipping and returns policy here.
Share
Text block
View full details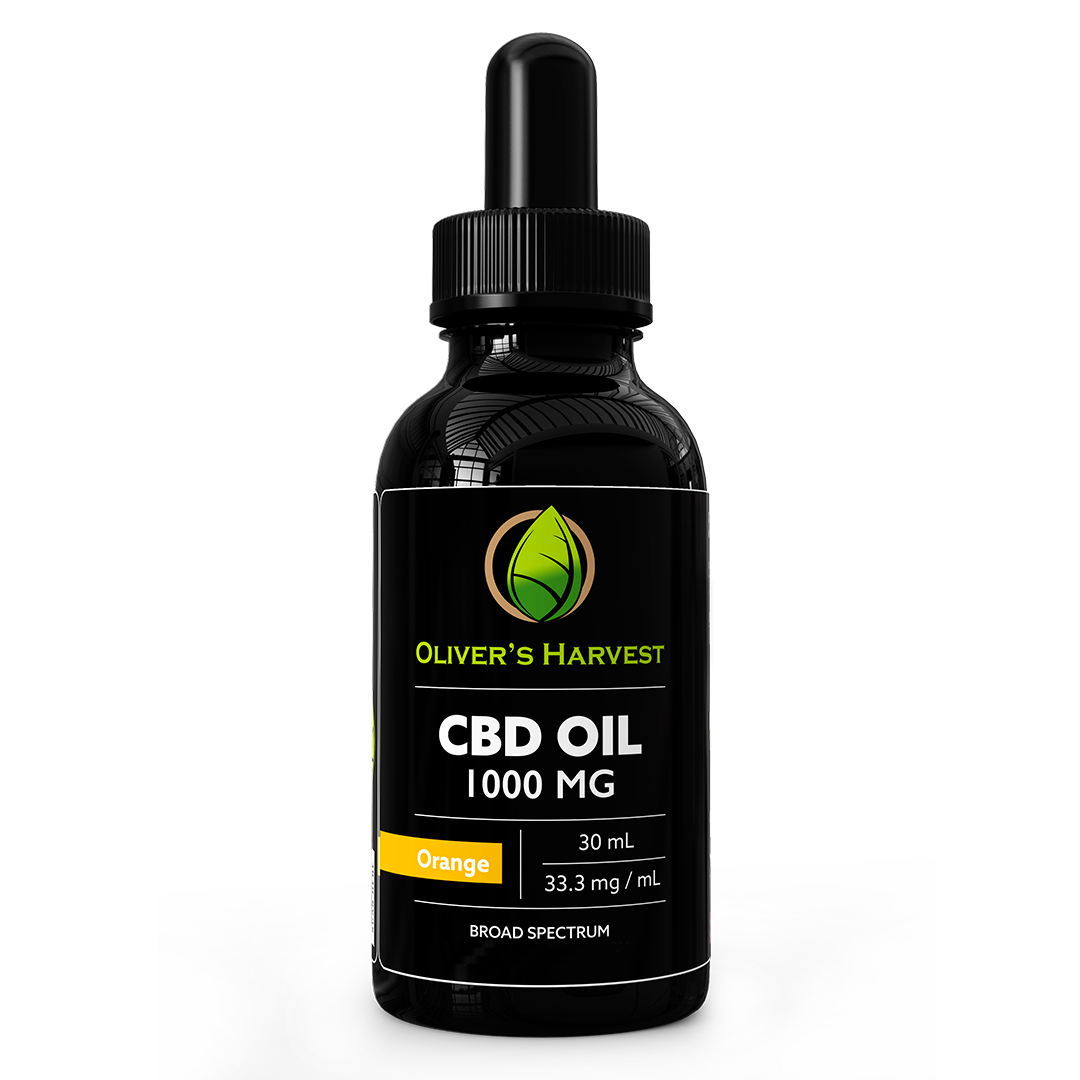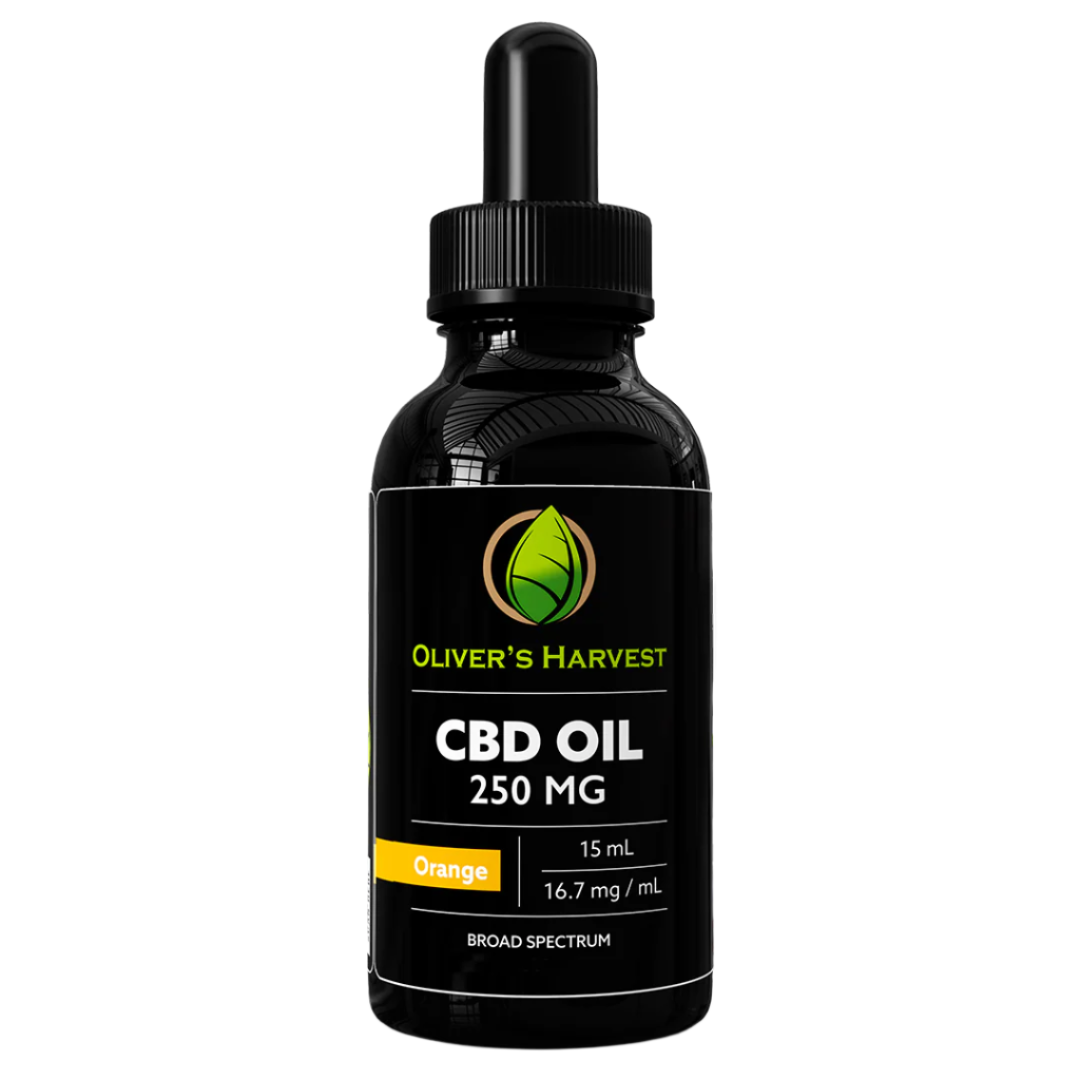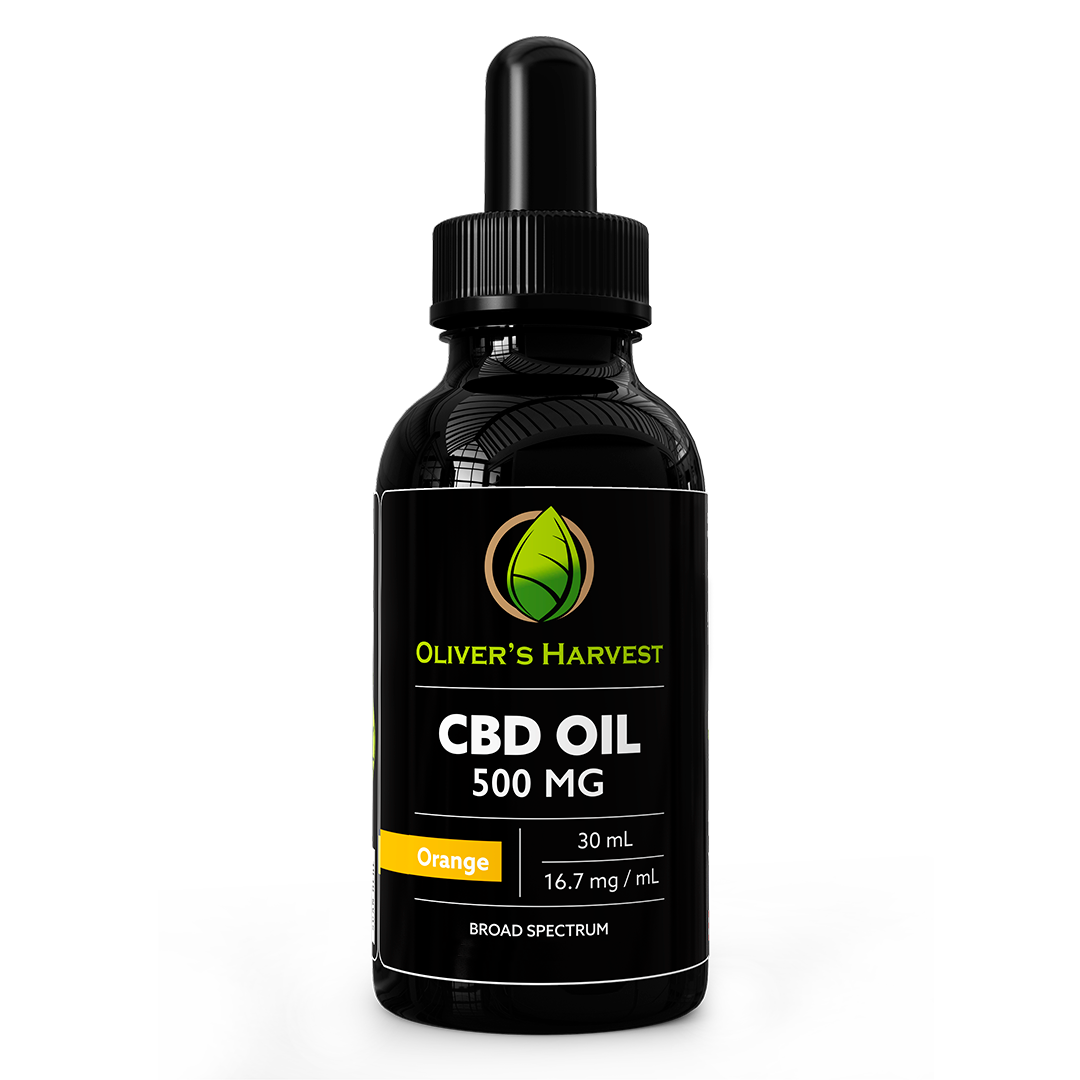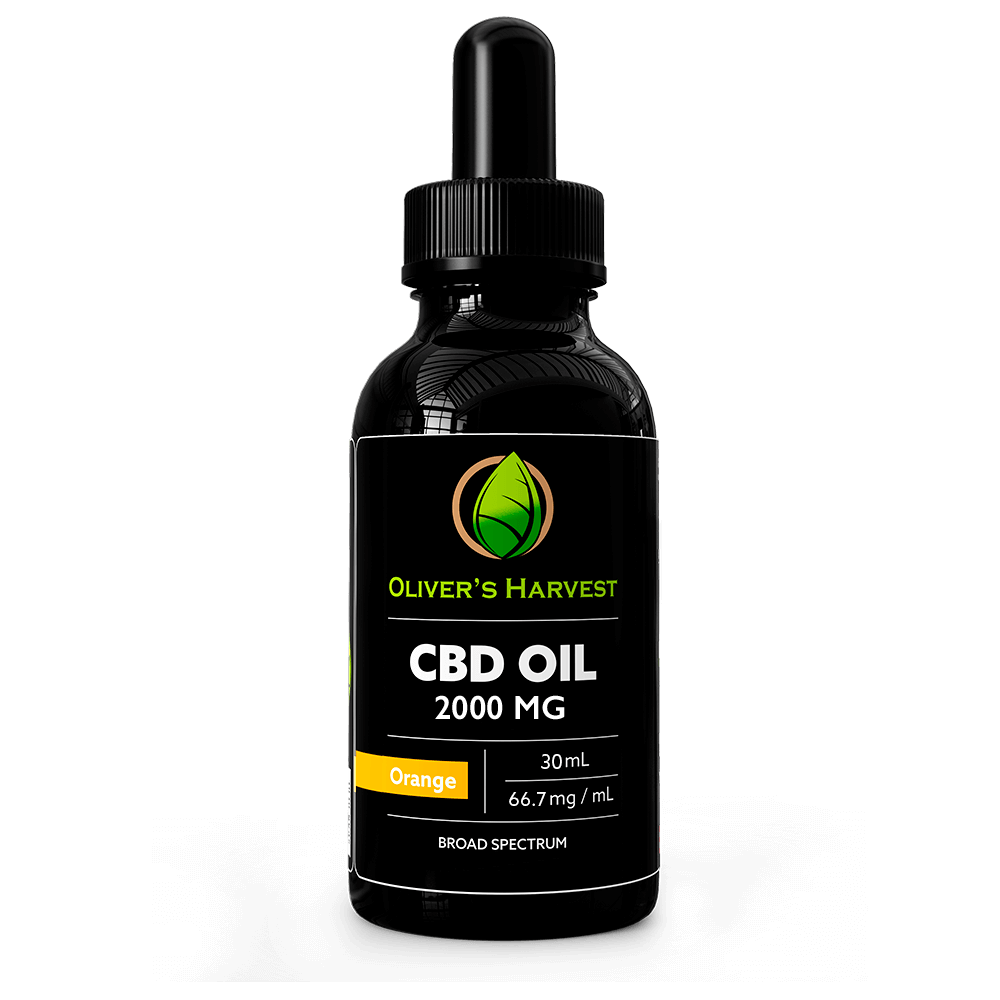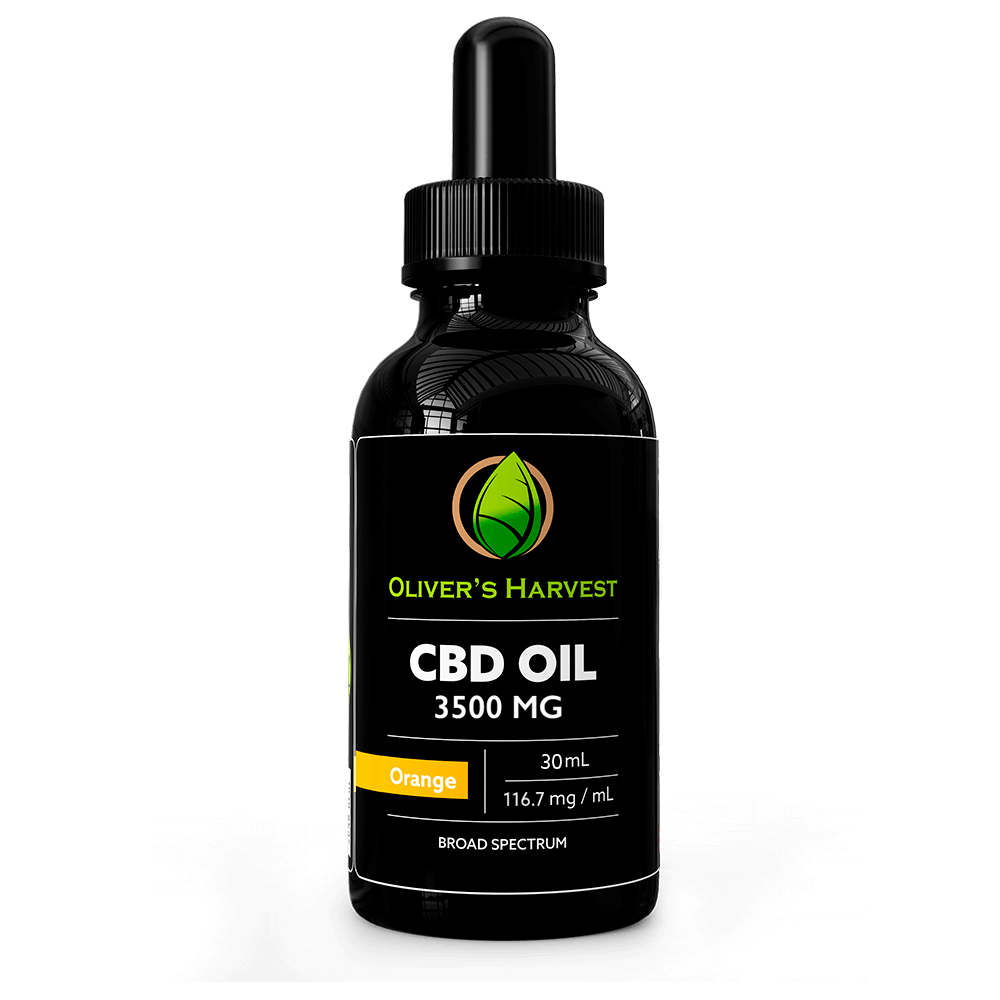 Product Description
 Learn More about Oliver's Harvest Broad Spectrum Orange CBD Oil:
Introducing our line of Oliver's Harvest Broad-Spectrum CBD Oil. Our high-quality oils are designed to enhance your body's endocannabinoid system (ECS) which is found throughout the human body. Try Oliver's Harvest Broad-Spectrum CBD oil to enhance your overall wellness.
0% THC | LABORATORY TESTED | MADE IN USA | NO PESTICIDES | Organic Ethanol Extraction | Organically Grown Hemp

By promoting a great endocannabinoid system, continued use of CBD oil may: 
Help maintain healthy joints
Help regulate rest periods
Reduce regular stresses
If you've been researching CBD oil, you've probably noticed that there are a lot of options. Many companies offer CBD oil for sale in several forms but fail to explain the differences between them. At Oliver's Harvest, it's important to us that you know the potential benefits of each type of product so that you can make the best decision for your individual needs.
Keep reading to learn about the different types of CBD oil, as well as the benefits of Broad Spectrum Orange CBD Oil. 
Three Types of CBD Oil
Cannabidiol (CBD) is just one of the compounds found in the cannabis plant. Perhaps the best-known compound of the cannabis plant is tetrahydrocannabinol (THC), the psychoactive compound producing the "high" effect. Although most people have only heard of THC and CBD, researchers have identified more than 100 other cannabinoids in the cannabis plant, many of which offer the user different effects. 
Many people use CBD oil because it can provide benefits without getting the user "high," as it only contains trace amounts of THC if any at all. Although all three types of CBD oil can offer these benefits, they each contain a different set of cannabinoids. 
CBD Isolate
Unlike full spectrum CBD and broad spectrum CBD, CBD isolate contains only one ingredient: pure CBD. It contains undetectable levels of Delta-9 THC and no other cannabinoids, terpenes (aromatic compounds with unique health benefits), or cannabis compounds. At first glance, this might seem like the best way to take CBD, in its purest form. However, isolate has several drawbacks:
It's a highly processed product. 

It doesn't contain other potentially beneficial compounds.

It won't produce the entourage effect, which is when compounds work to enhance each other's beneficial effects. 

It generally takes a larger dose to achieve the desired effects.
Despite its drawbacks, isolate does have some benefits, including the fact that it contains zero trace THC and has no taste or odor. 
Full Spectrum CBD
Full spectrum CBD is the exact opposite of CBD isolate — it contains all compounds found in the cannabis plant, including small amounts of THC, though the Food and Drug Administration (FDA) dictates that it can't contain more than 0.3%. This type of CBD oil undergoes the least processing of all the oils, but for people hoping to exclude all THC and only get certain beneficial compounds, it isn't the best choice. However, because it contains all the cannabis compounds, full spectrum CBD has the most potential for the entourage effect. 
Broad Spectrum CBD
Our broad spectrum products, such as Broad Spectrum Orange CBD Oil, offer customers an enticing middle path: CBD oils that contain a range of some of the most potentially beneficial cannabis compounds, but typically no THC. Like the full spectrum oil, broad spectrum also presents an entourage effect wherein compounds maximize their potential benefits by working in tandem. 
For many people, broad spectrum CBD is the ideal choice. Here are some of the benefits of our Broad Spectrum Orange CBD Oil: 
It contains other useful cannabinoids such as cannabichromene (CBC) and cannabinol (CBN), as well as terpenes. 

It offers high bioavailability.

It doesn't create a "high" effect.
What Strength to Choose:
250mg

(serving 16.7mg/ml): New to CBD? With 15mL, our 250mg strength is designed for newcomers who would like to try broad-spectrum CBD.

500 mg

(serving 16.7mg/ml): Tried CBD before? Our 500mg comes in 30mL bottles for adults who have tried CBD before and know their optimal strength.

1000 mg

(serving 33.3mg/ml) Everyday user? This concentration is perfect for CBD users looking to experience the benefits of CBD at their full potential.

2000 mg (concentration 66.7 mg/ml). This strength is for daily users. You can use 2,000 mg tinctures to relieve stronger symptoms or simply to reduce the serving dose. You will save on getting more CBD for a lower price.
3500 mg (concentration 116.7 mg/ml). The highest strength for experienced users with severe symptoms. You can also reduce your daily dose to only a few drops and use the bottle for a few months. This bottle offers the highest saving per mg of CBD.
Instructions: 
Shake well before usage

Squeeze the dropper to fill it with oil.

Next, place half a dropper of CBD oil under your tongue.

Once you have placed the CBD oil under your tongue, hold for 30-90 seconds before swallowing.

Use twice daily.
Our orange-flavored CBD offers a tangy, delicious way to incorporate CBD oil into your daily schedule without any signs of a bitter aftertaste.
Additional Information:
Our broad-spectrum oils offer high bioavailability. Bioavailability refers to your body's ability to absorb and use the essential active ingredients of the administered compound. At Oliver's Harvest, we are dedicated to providing our consumers with the highest-quality, chemist-formulated CBD oils for their needs. Our CBD is extracted from the finest hemp grown on our organic farms in North Carolina. In addition, our CBD oils are crafted and infused through a rigorous process that makes them the purest in the market.
Ingredients:
Organic MCT Oil, Winterized Triple-Filtered Broad-Spectrum Hemp Extract, Natural Flavors, Stevia Leaf Extract, Organic Hemp Seed Oil.
Benefits of Broad Spectrum Orange CBD Oil
Satisfaction Guarantee

Love it, exchange it, or your money back

Fast Shipping

All products ship First Class or Priority, most arriving in 3-5 business days
Choosing a selection results in a full page refresh.
Opens in a new window.